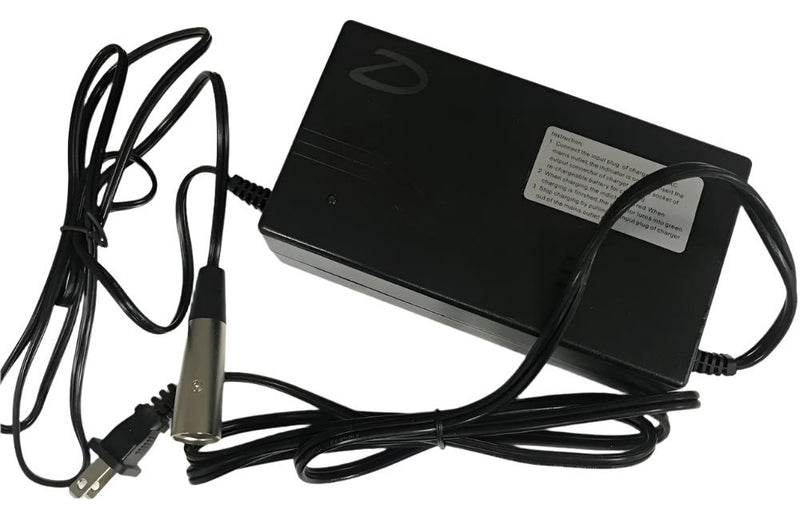 Introducing our Charger for Ebike, the ultimate power solution for your electric bike. With a 72V-2.5Ah Lithium battery and an XLR plug, this CUL certified charger is designed for precision, safety, and efficiency, ensuring you're always ready for your next ride.
Key Features:
Optimal Compatibility: This charger is specifically engineered for 72V Lithium batteries, ensuring a perfect fit and efficient charging performance for your electric bike.
Swift Charging: With a 2.5Ah output, this charger provides rapid and reliable charging, so you can spend less time waiting and more time cruising.
XLR Plug: The XLR plug ensures a secure and stable connection, minimizing the risk of accidental disconnections during charging, allowing for a consistent flow of power.
CUL Certified: Safety is paramount, and this charger is CUL certified, complying with rigorous safety standards, giving you peace of mind while charging your battery.
Universal Compatibility: While designed for electric bikes, this charger is versatile and can be used with various 72V electric vehicles and devices, making it a valuable charging accessory.
Durability: Crafted from high-quality materials, this charger is built to withstand daily use and provide years of reliable service.
Don't compromise on quality or reliability when it comes to charging your electric bike. Choose the Charger for Ebike, 72V-2.5Ah Lithium with XLR Plug, CUL certified, and enjoy efficient, safe, and worry-free charging every time. Get back on the road and explore with confidence—order yours today!